News about Pupicek
On 3.2. we got a benefit for Pupicek 1200 CZK from family Halad in Sluknov. We want to thank them for that, because he need a lot of quality feed, and it is quite expensive. He can eat this vitamins now. Pupicek looks perfect, he has horse friends there.. Althought he is blind, he has a good orientation in run. We have a great joy. He can show off with a new quilt for the winter. I will bring a photo with it next time...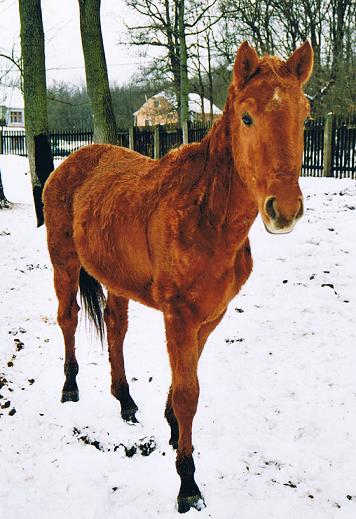 Photos of Pupicek from ex-owners
I got an email from his ex-owner, who didn't know about the event. She got to know and sent the photos. First two photos are before transport to slaughter-house. New owners wormed him, made corrects and he got quality feed with vitamins as well. Because he was mad sometimes, owners decided to castrate him, but the horse-doctor found out He is blind on left eye and he will totally blind in future on both eyes. They decided to get him to yearlong run, because their run had difficult entrance and tit would be dangerous for him.. so Pupicek went to someone. Everytime they asked for his health, a new owner told them he is fine.. but he was not! Summary: After 5 months he got to this terrible condition! Unbelievable.
In this condition he got to his actual owners
After one year he was healthy....but only for a short time.....
Pupicek's checkup and pulling the teeth
On wednesday 15.11.2006 Dr. Buckova from Chomutov arrived to checkup Pupicek. She was very surprised, she lauded his wounded eye.His fur was perfect, without parasites... the heartbeat calmed down as well. After narcotizing he will be pulled his teeth for 2 hours... in the evening Pupicek fed up yourself like any other day. The whole checkup and pulling cost 2750 CZK. We used money from these honest people they ministred to Pupicek.
Great surprise – Pupicek is not an gelding, but a stallion. And it was true, he started to stud and neigh...
Article about Pupicek
On 1. November was publicated an article about Pupicek in Teplice Daily Newspapers, as you can see here


Photos of Pupicek after 21 days
All scabs are gone, a new fur starts to grow, around his eyes is everything ok. And he is fully eaten...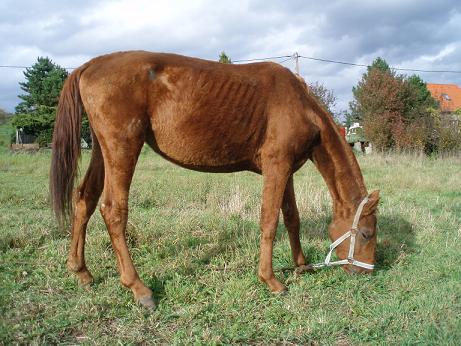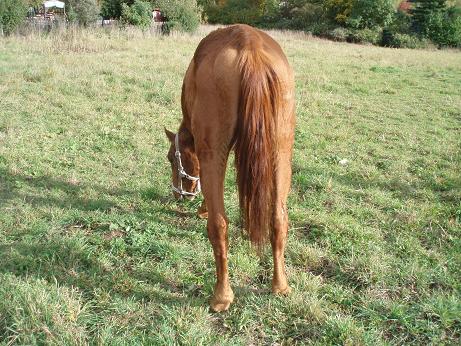 News about horse Pupicek.
The cure then medicaments
On 16.10. looked through Pupicek Dr. Kate Buckova from Chomutov. She was very willing and advised us how to cure him. She stated: spurious returns of heart, rustle, leaven in fur, mould, big problems with teeth and gingival... She will be operate on him in a few days, then he has a tapeworm, we will remove by an expensive cream, and operation on eyes- there is a sponsor for that- The league for saving animals found it. .
This check up cost 2300CZK. Mrs. Horackova from The league for saving animals paid for it.. We thank a lot….
The horse is in good hands now. Mila takes care and cures about him perfectly. He goes to pastures and sometimes he kicks with hoofs in the air. On 21.10. it was made corrections of hoofs.
Solving the problem
This week will be publicized in The Newspapers Direction an article about Pupicek.
On 16.10. was brought an action against Mr. Ripa for the attempt of torture animals by The Criminal Police.
On 23.10. Mr. Farsky from veterinary sent the letter to The State Veterinary about this case, which will be discussed with The town council in Teplice... evidently with financial penalty.
Kind people, Who helped and help...
Our sponsors are the husbands of Svejda- FROM BEAR VALLEY. Their websites link

Tonda with Daniela, from The horse farm in Fojtovice – they brought the vitamins Biofactory Gel and sweets and hay.



Mrs. Zdenka Horackova paid for mentioned check up – 2300CZK. Mr. Horacek wants to sponsor an operation on eyes.


The basic schools in Dubi, Kostany, Bila cesta Teplice, Marsovska Teplice succored for Pupicek.


A lot of visitors in preserve Mstisov succored for that during the weekend.



Mrs. Anna Dolezalova sent financial help. Thank you very much...



This money was used for the vitamins ALAVIS, better salve on eyes, lotion on fur and addition feed (it was specified by Dr. Buckova).




Marketa Proskova is addressing some companies, they succored too. She visits Pupicek and takes him for scamps. Thank you very much for endeavor and good care.



Mrs. Sobotkova and her colleagues from Leasingstar in Teplice, they gained money for Pupicek. Thank you very much, we used it for the check up and pulling the teeth.




And once again, we are very thankful for your help...





Pupicek

On 4.10.2006 I joined in saving tortured horse from Mr. Ripa in Oldrichov. He was discovered by passing girls on horses. They decided to save him because of his health. So I joined to them. We didn't know about him anything. We gave him name Pupicek.

There are shocking photos

Immediately I called the owner of refuge in Krupka Mrs. Horackova. She was very kind, we had an appointment. Mila from Mstisov took the Pupicek to take care about him. We called the horse-doctor to do check up. We need a lot of proofs to stop this torture and suffering.

We know he is 3 years old, his real name is Kuba, names of his parents. He had problems during his childbirth, so he is blind and retarded. However he has the right for life, so we wanted to give him the chance to live. Now we are solving the future of Pupicek, where he will be.. by Mila or in Refuge camp for animals. But someone noticed that the best solution is to give him a euthanasia... we are against it! Now his future is in our hands.. your help, financial help and succoring. We are going to publicize it in newspapers and bring an action against Mr. Ripa for the attempt of torture animals. Every animal has the right to live!

There are photos after 14 days by Mila. His eyes are open, without discharge, .