On 13.10.2007 we took part with Clea in western race in village Tatinna
In disciplne PLeasure we won the 2.place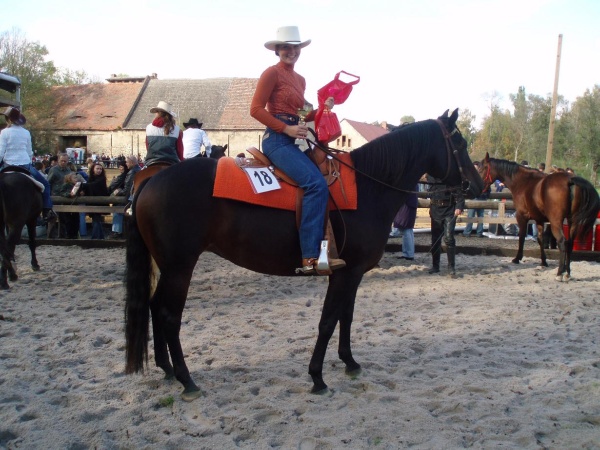 In discipline Trail we reached the 2.place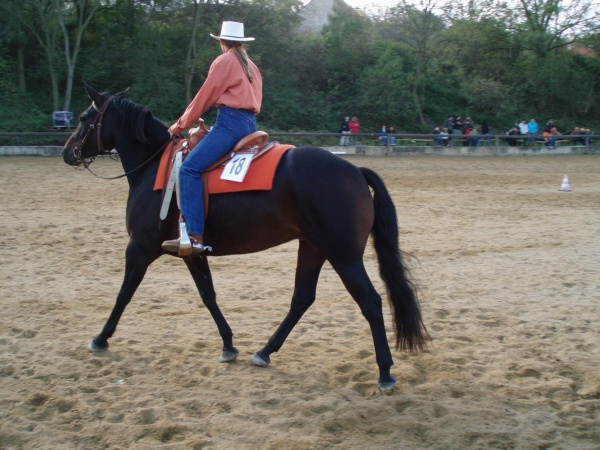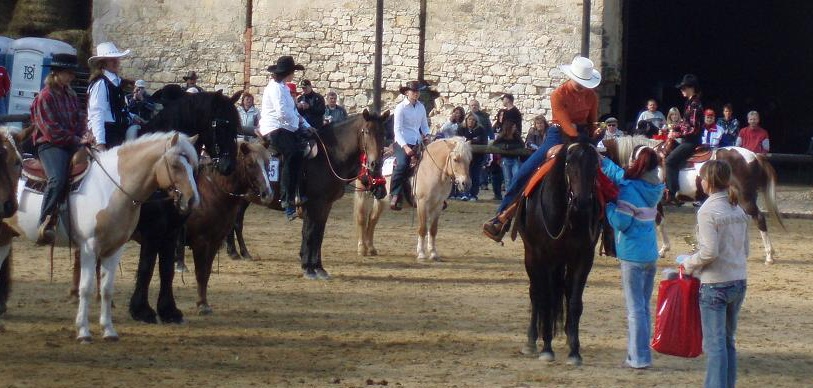 At last we had speed disciplines - Barrel racing and Slalom along cedars.I had fear after my last injury, so I rode more carefully...
In Key hole we won the 3.place
In the end we were with Clea promulgated as General Champion and got fourth cup, Clea made me large joy again.
On 30.09.2007 we took part in Western Racing in Zidovice again, newly with Lorann. First discipline was Pleasure..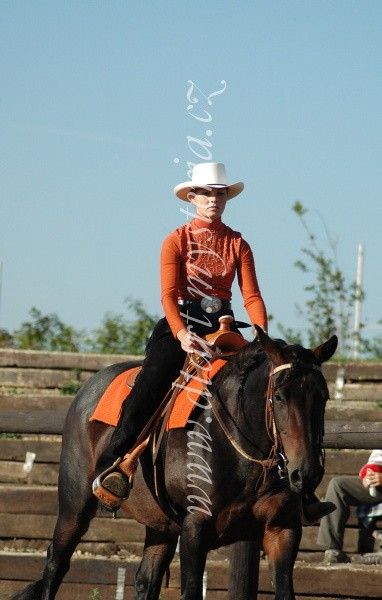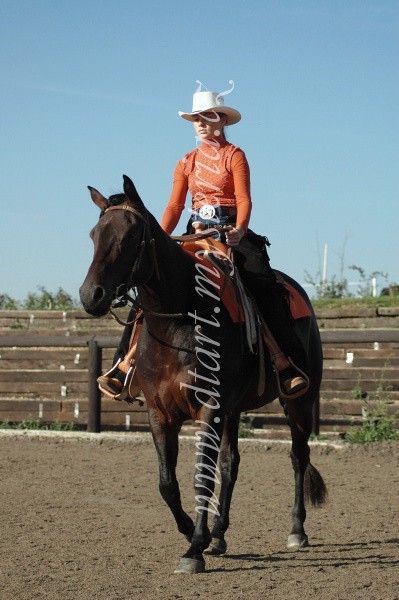 We won 3. price
Lorann raced Pleasure for beginners with Kathy, it suited them very well...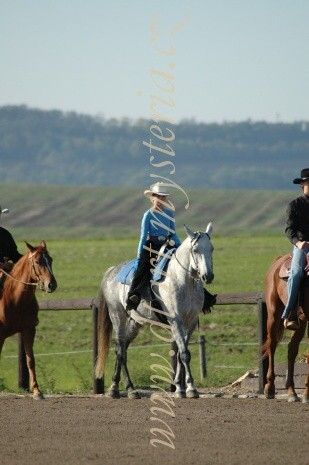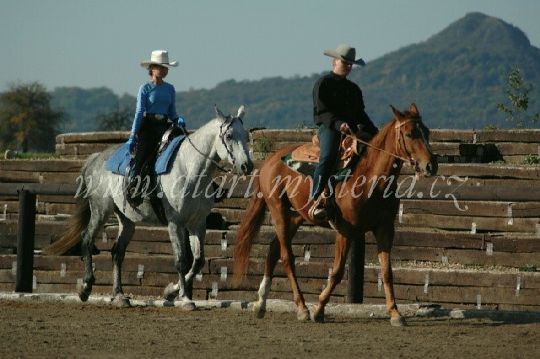 They won 4.price..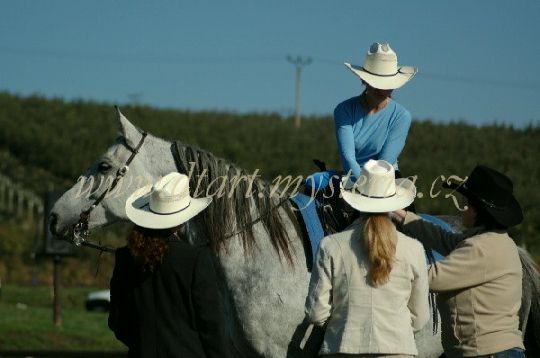 Next was Horsemanship and Trail
In Horsemanship I was the second.
Then Lorann raced Trail for beginners, he done it perfectly..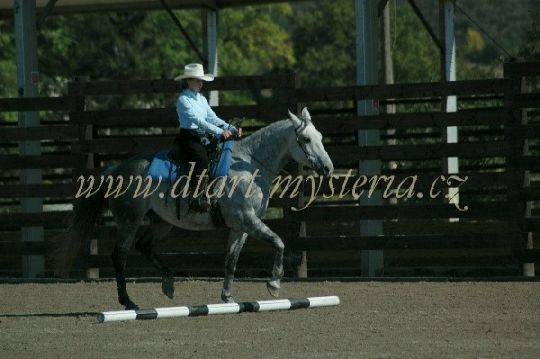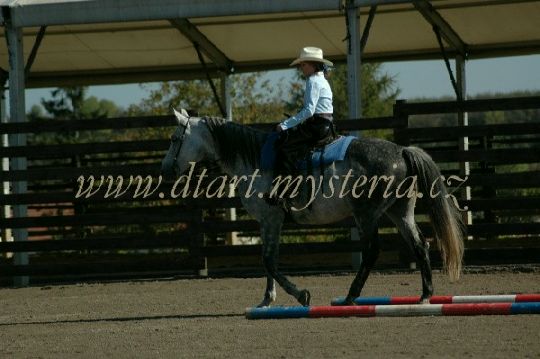 They won third place.. We congratulated them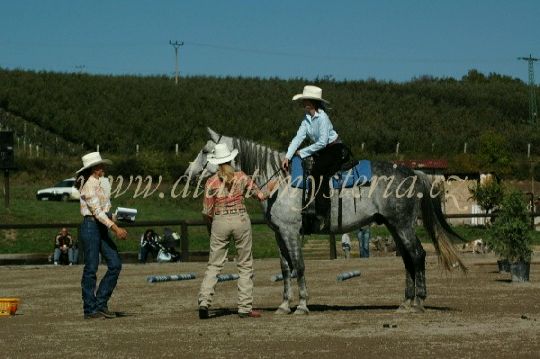 In break time I performed with Clea a common communication on hurdles.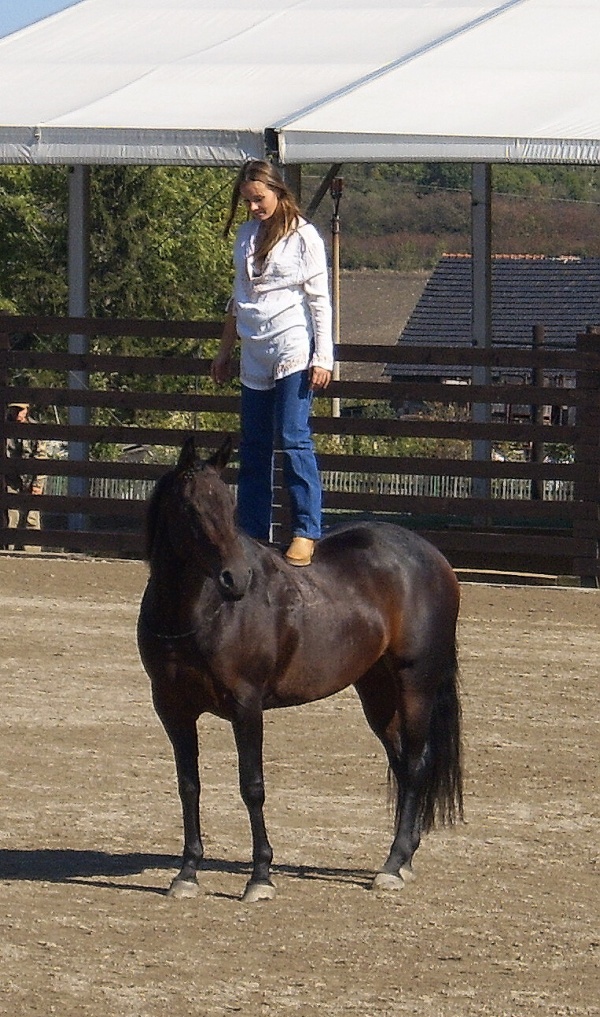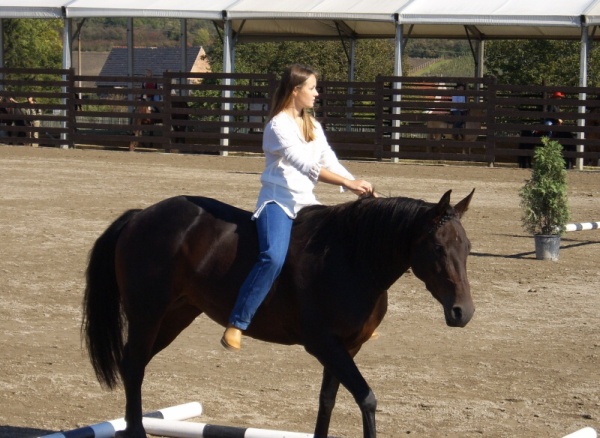 Last two disciplines were speed - Pole Bending and Barrel Race. And we won the first price in both :-)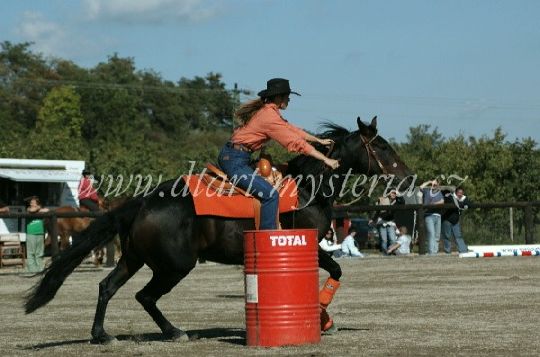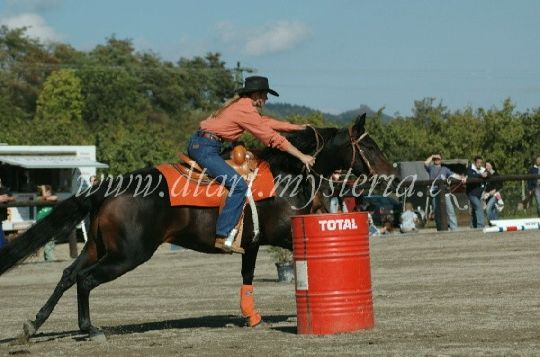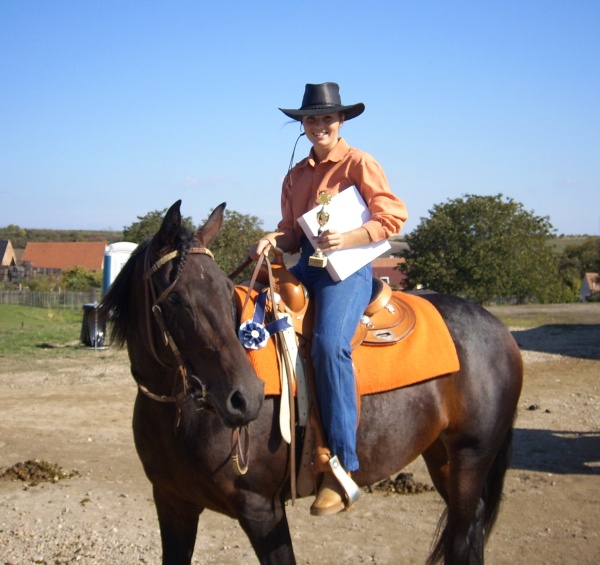 On 18.08.2007 we took part in the 7th Memorial race of Gen. G. A. Custer in Hnevsin with Clea and Simone with Loran. This Memorial race sets up the well known actor Vaclav Vydra.. There were 200 horses and riders. We were there for thefirst time, so we got rank "Private" and next year they will increases our rank... We enjoyed in every moment...
There is our station and the preparation of horses.
Let's go...
And now in the column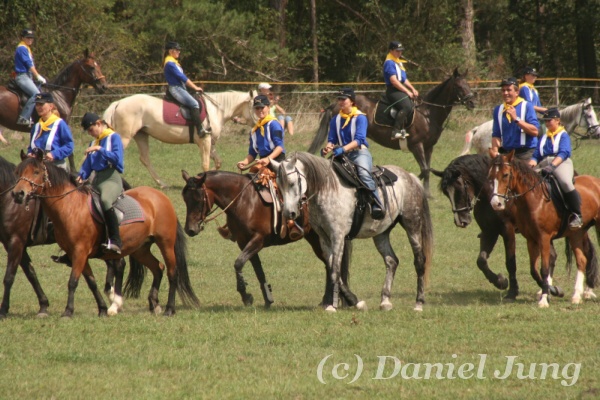 The actor Vaclav Vydra with Demon without using a bridle, The Lemonade Joe behind him and his son
There we go to formations...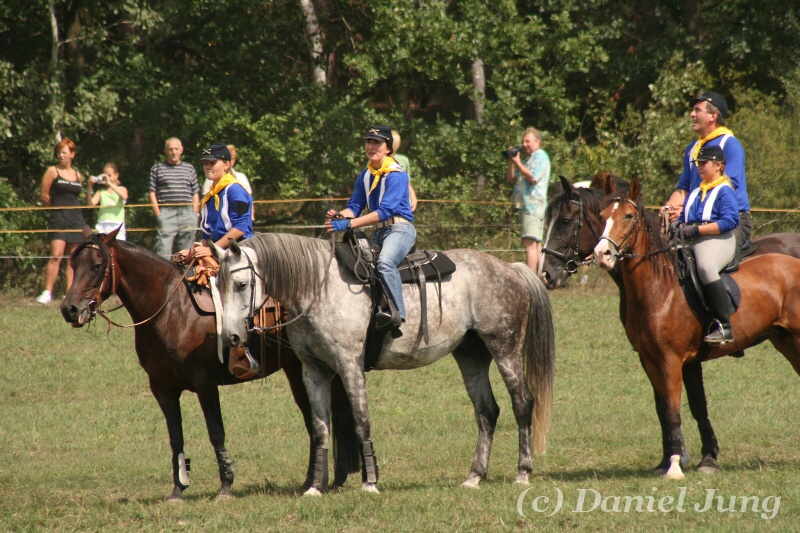 Do you find us? :-)
The whole seventh cavalry
I managed the skill-ride with a headgear and I found out, that there is a new discipline called Cutting Watermelons, so I signed up quickly. It was for the first time I hold a sabre, Clea was surprisingly calm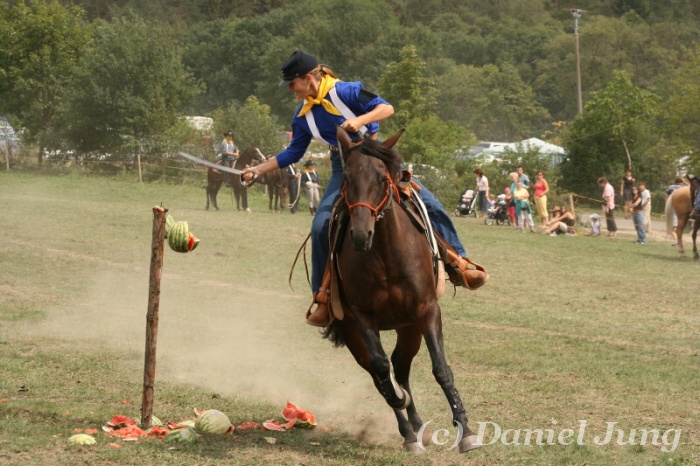 After some rounds I realized, that I am in the final round and won the 1. price...
The general /actor/ Vaclav Vydra charged me to a "last round"... for the first time it was a draw, the second time I won. But real winner was the general Vydra for me, because of no using a bridle..
There is a video shot – watch it perfectly and you will find us...
In 29.07.2007 we took part with Clea in western race in village Zidovice. It was for the first time and we enjoyed it... Clea surprised me and was very careful, I love her
1. discipline - Pleasure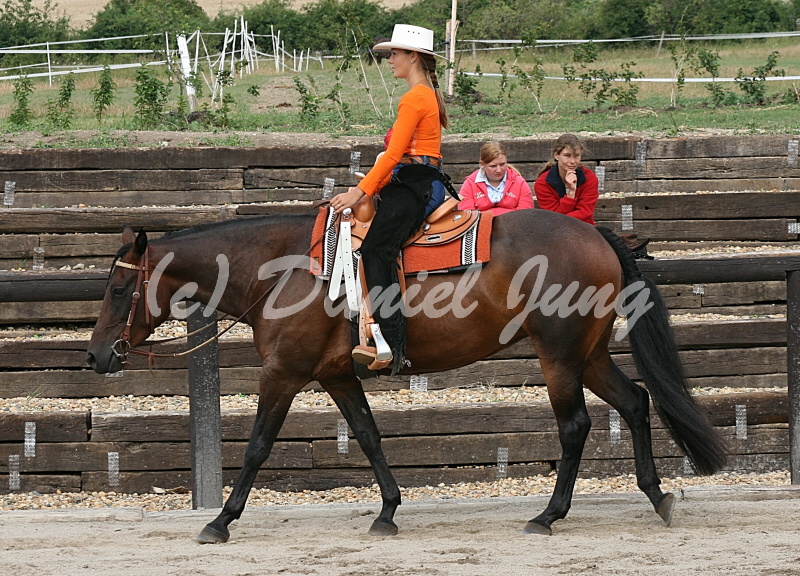 We won the bronze... ..
Then we had Horsemanship and Trail. In Trail we reached the 1.place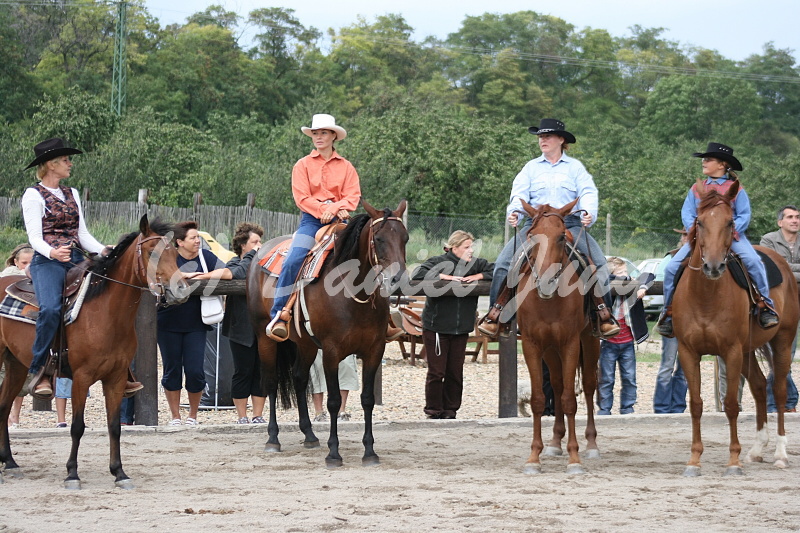 At last we had speed disciplines - Slalom along cedars (the 2.place) and Barrel racing (the 1.place again...) ..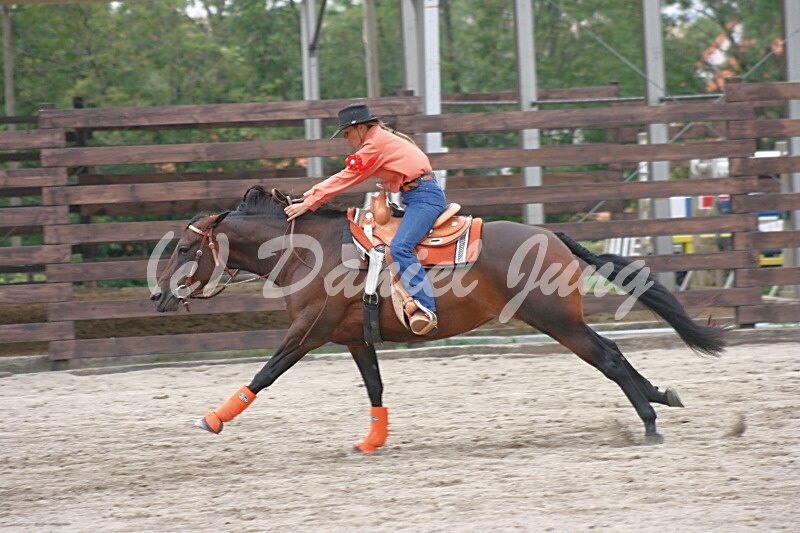 When is everything over, the sweet reward is coming, we enjoyed it... and we will look forward to next racing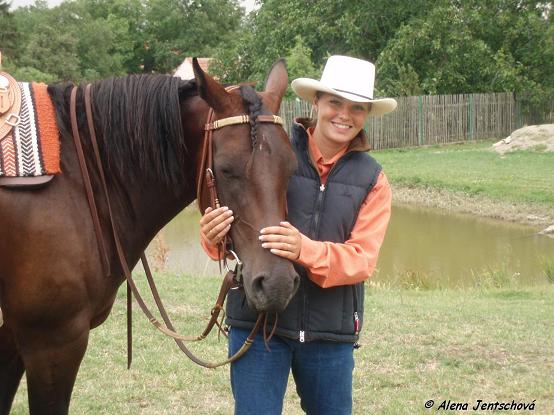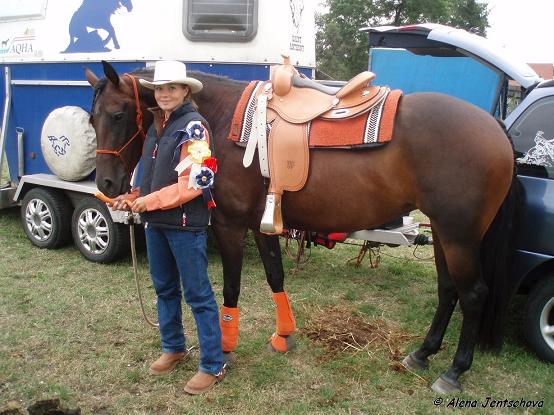 I train Clea in a western drill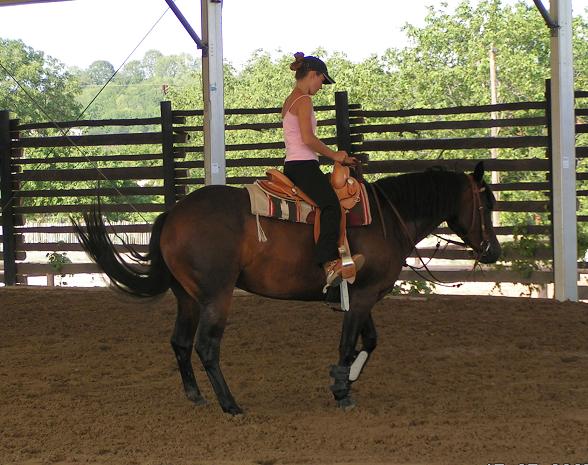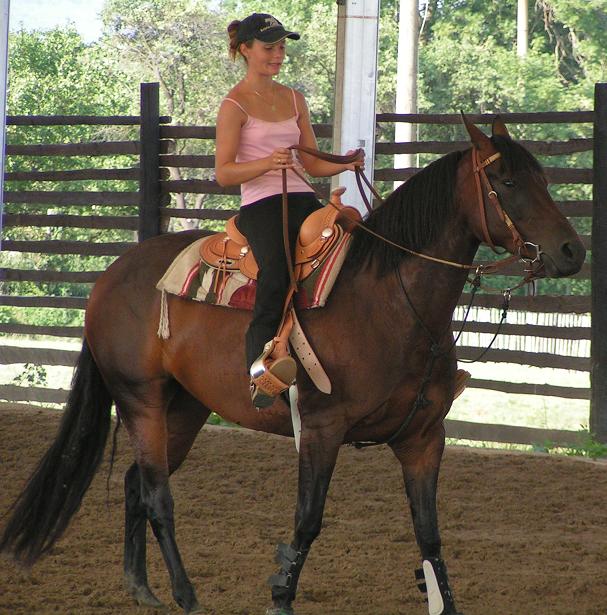 It will be look like this :-)))
With Clea we help other people, which feel mentally and physically worse then the others... ...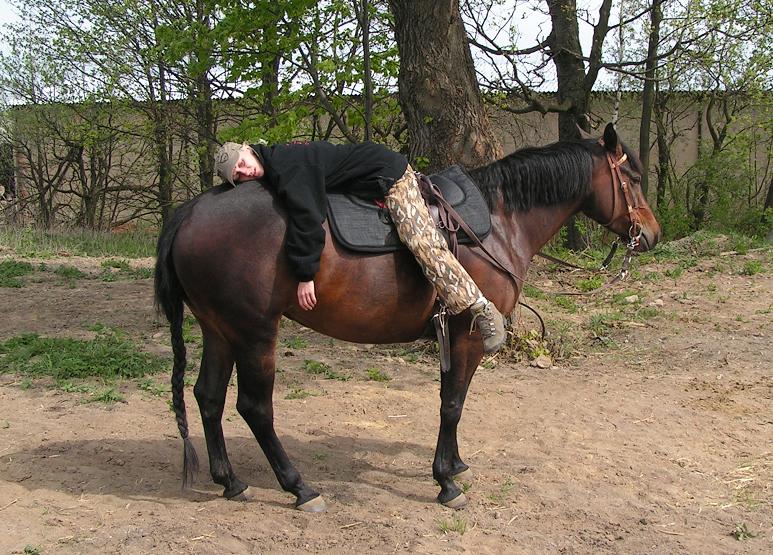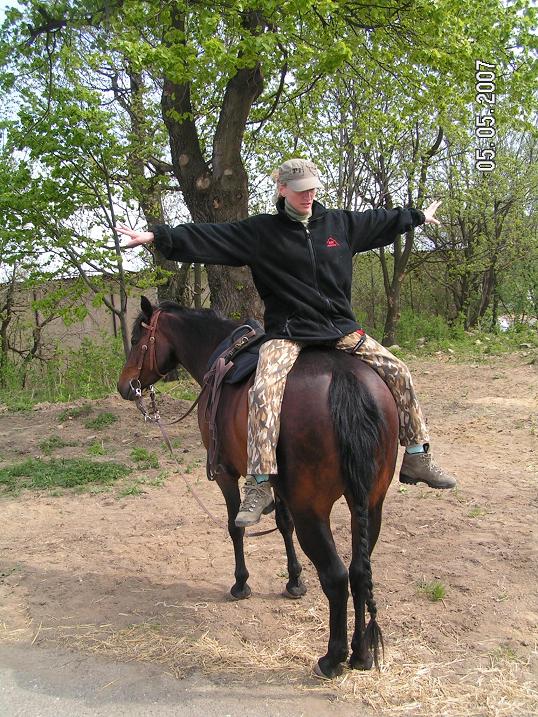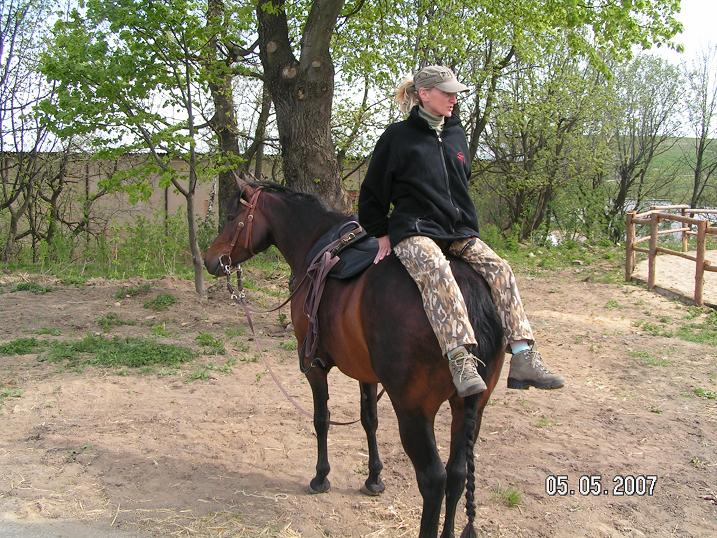 I help prepare their horses for this work at the farm in Fojtovice, too... More about hippo therapy in Fojtovice here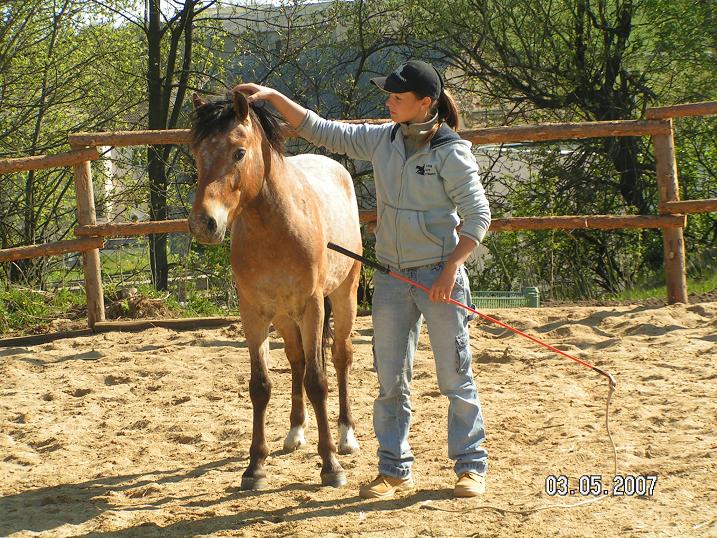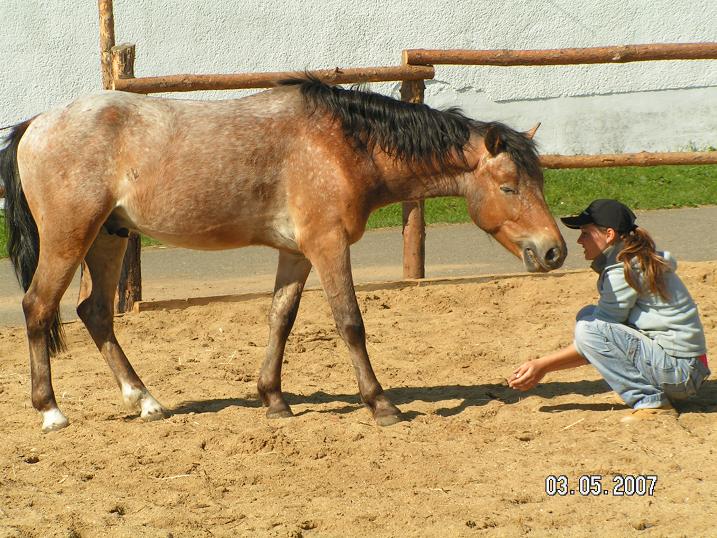 We brought new mare there, she is called Nshotchi and she is amazing....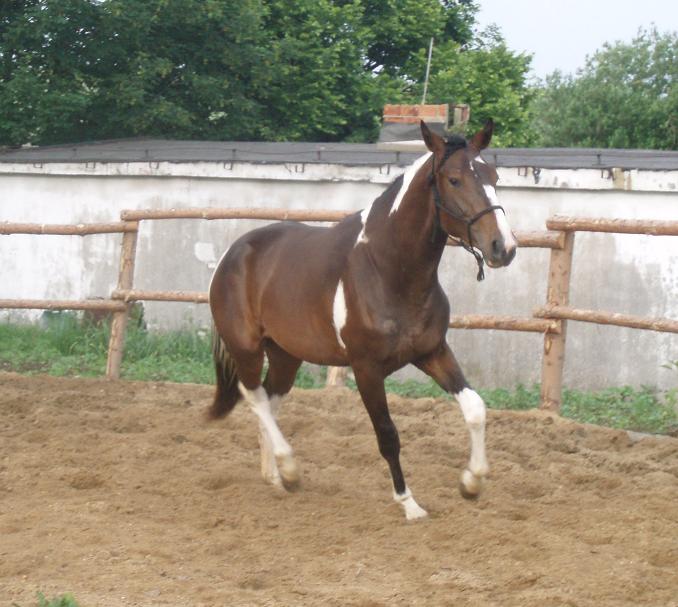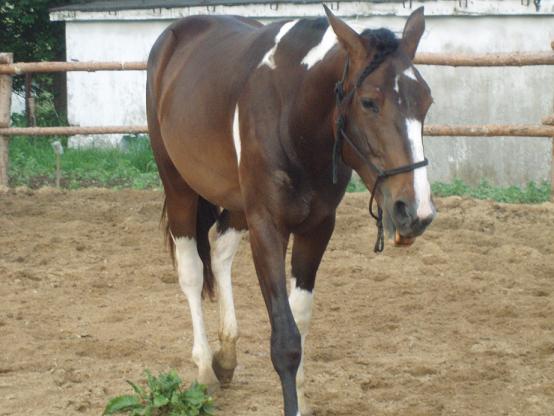 Michelle Kunova (Kunicek) visited us and she is well known through very good relationship with Sara (Ceridwen). She drills her with natural methods and it goes perfectly. Her skills are shown at many places. She graced us with the visit in our ranch and tried to drill our horses....
Lorann was the first.
Then I tried it with Clea and Michelle was correcting me.
Michelle drilled her alone for a while
We drilled a kid in the end.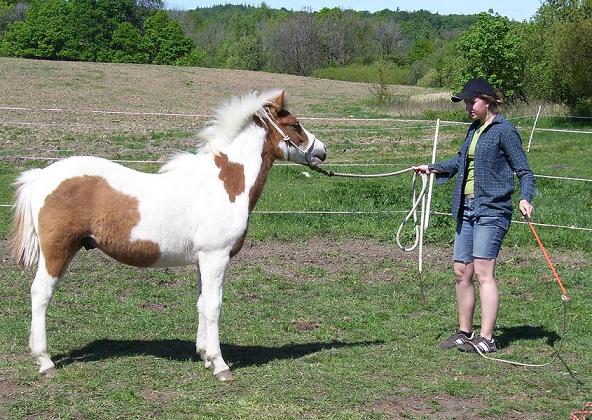 Simone tried it too.
It was really nice day with Kunicek; it brought something to me too. Michelle is a real professional. I wish her a lot of success with her beautiful mare - more about them here
This weekend (1.2. - 4.2. 2007) we were on another western course, I prefer reining as last time. This time it was with Susan Pacesova, her websites who train horses in Austria by Wern Sapergia. This was the best course we have ever passed, we learned a lot during three days. Suzan is great teacher, we are very excited.
Car and trailer were reliable.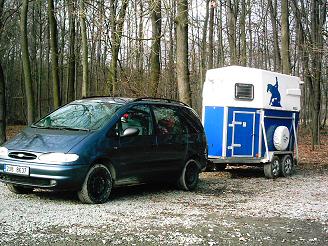 We had a good weather, not like last year...
Cleaning
With a full equipment
Training lesson
I am waiting for farther photos from profi-photographer, it will be great... ...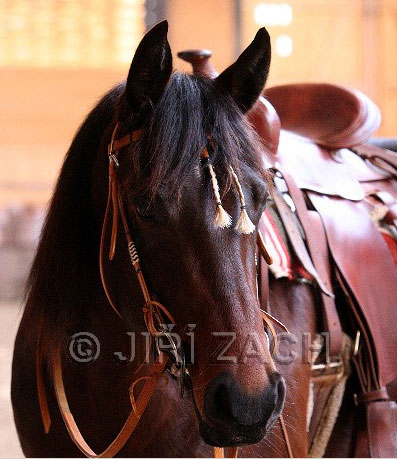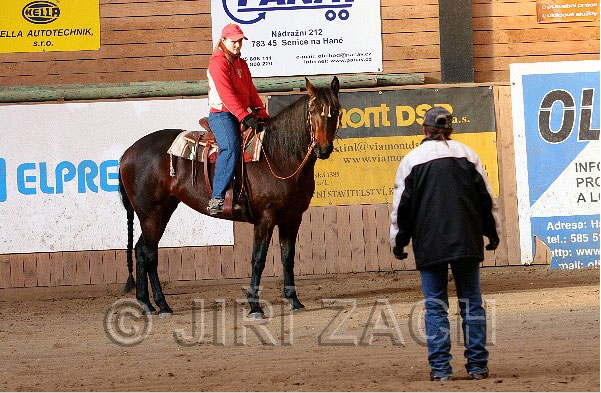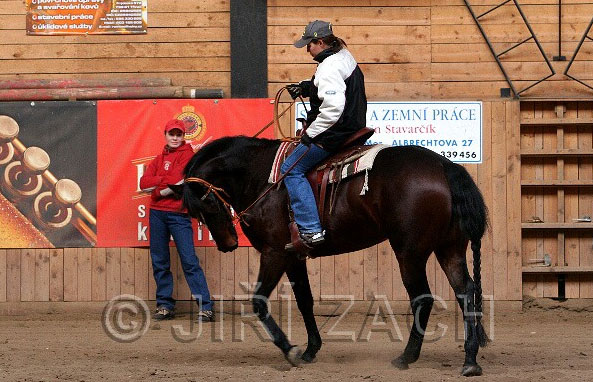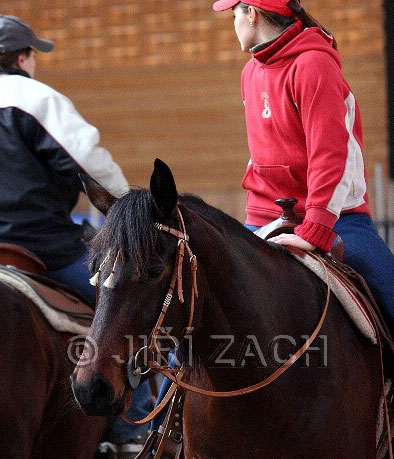 In September 9.9.2006 took place The Cross Country in Fojtovice, but no one knows about it, nor I. After a half an hour I was fully loaded and drove in Fojtovice. It compensated to us, because we won the 2.place and got the wonderful glass cup and sweets for horses.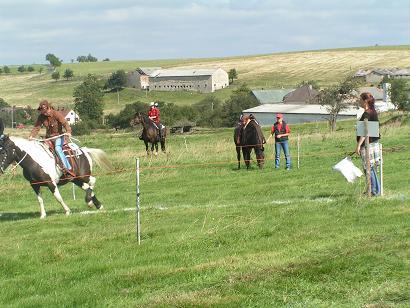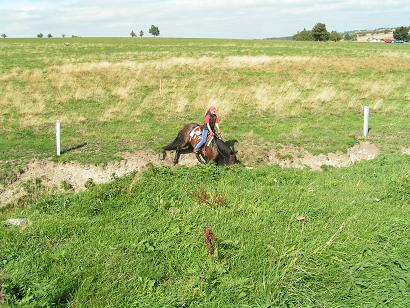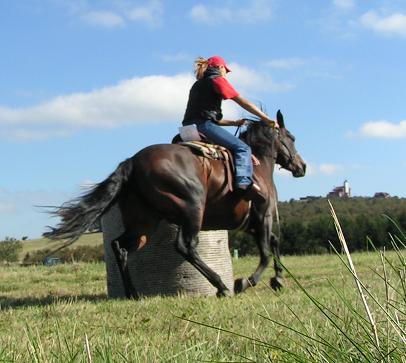 In August we took part in The Horse-play at the Mountain farm Cinovec. We got valuable experiences again. It was our first public race and Clea done perfect- she satisfied me.
I was interest in Falabells at most... and I almost took one of them on my ranch:)
In February we visited the western course with teacher Ester Weberova, in Horky above Moravia.
We learned a lot, but not everything.. we were praised for good cooperation despite our young age.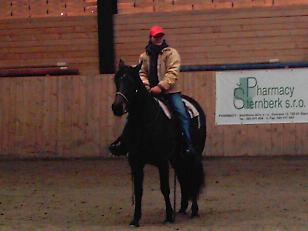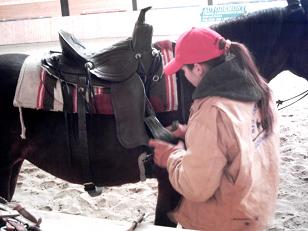 Clea
This year she was mounted. She had the saddle for the first time in her life.